Gunnink & Co.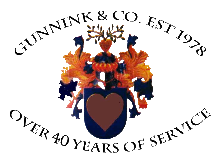 Business Brokers
Perth Western Australia
Buying and selling businesses in Perth for over 40 years
Business appraisals
Business purchasing brokers
Business migrant broker
In order to sell your business you will need to be able to demonstrate a future maintainable earnings and have a realistic view of the return on investments or capitalisation rate that a willing buyer would expect from your business.
Update December, 2021:
The activity in the market since October/November has been absolutely fantastic with buyers really coming forward to purchase businesses again, as recent sales have demonstrated. Sellers that were considering selling are very slowly coming forward to put their businesses on the market as it is moving again!
Prices are also slowly firming up, but we are still some distance away from the valuations of 2 or 3 years ago, but we are moving in the right direction. If the recent sales are an indication of what's to come, then serious buyers should move and not wait too long before we see an increase in the goodwill of businesses.